Events: Rosary Post Primary & Further Education
Click on the links below for photos of some of our events
---
Exam Results (2009)
This years exam results were excellent all round.

A total of 12 students sat exams in Post Leaving Cert (Fetac Level 5), Leaving Cert, Fetac and Junior Cert. All students achieved a pass grade or higher in all subjects - not one single E! Many students achieved honours, merit and distinction grades, and all students were entered at the highest level of their individual achievement. Congratulations to all students and teachers on these achievements. Many years of dedicated work takes place, from when students enter St. Marys School for Deaf Girls, to when they sit their exams. In both the primary and post-primary school, our aim is to enable each student to achieve her full potential. Extra-curricular activities, pastoral care, physical education and S.P.H.E.(social, personal and health education) have also been of great importance in the development and nurturing of these students, in line with the mission statement and ethos of St. Marys School.

---
Staff Profile - Lynn Cullen (2009)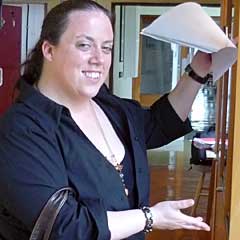 What subjects/class do you teach?
Maths, Science and I.T. What is your favourite subject to teach?
Maths If you had a superpower, what would it be?
Invisibility- it would give me the ammunition to get all the little secrets around the school and to catch the students in the act! LOL What would you do with an unexpected day off school?
Go with the flow- chill out and break out a bottle of champagne! Where did you go to school?
In the very same school that I am currently teaching. Tell us about your first day teaching in St. Marys School.
Was VERY nervous, especially entering the "Forbidden Den" i.e. the staffroom, and kept calling the teachers by their surnames! What is the worst job you have ever had?
Working as a "GREETER, in a Water Park in USA, before I got promoted into other responsibilities. Have you always wanted to be a teacher?
When younger-YES; in my teens - NO. I wanted to be a graphic designer. Then I caught the bug again while in Uni. What is your motto for life?
Live life to the max; life is too short for procrastinating. If you were stranded on a desert island, which 3 people would you choose to bring with you (one must be a staff member at St. Marys School)?
Hugh Jackman- he is gorgeous!
My best mate.
John Canning- to do all the heavy lifting for me, getting coconuts etc. From what I have seen in "Lost", I would need 2 men! LOL
What 3 items would you bring to the desert island?
Unlimited supply of chocolate
Bed
iPod
What is your favourite book?
Da Vinci Code" by Dan Brown What is your favourite film?
Do not laugh- the classic "The Sound of Music". What are your hidden talents?
Would not be hidden if I told you! LOL What is the trait you dislike most in other people?
People who think that they are superior to other people Who is your favourite artist?
Salvador Dali What do you like most about St. Marys School for Deaf Girls?
Everything!!! Who are your heroes in life?

---
New Music Room (2009)
"Make sound perception a fun and rewarding experience" is the key message in this partnership between St. Mary's School and Analog Digital Company. The new music room gives our pupils the best possible listening experience and there is the possibility for the company using the technology developed here, in other applications.

---
2A/ 2B Trip to Dublin Zoo (2009)
To celebrate the end of the school year, we went with some of our teachers to Dublin Zoo.

We had a fun time, saw lots of animals, learned lots about the animals and afterwards had lunch in the restaurant, with Birthday Cake. This was a good way to end the year, especially as it was a sunny day. Happy Summer Holidays everyone!

---
---
interview with Lorna Mc Cormack of "Simply Signing" (2009)
On Thursday, 21st of May 2009 Mrs Lorna Mc Cormack came to our classroom for an interview with Mary, Shauna and myself. Ms O' Rourke, Ms Worthington and Kathleen were with us. Lorna told us that she decided to set up the business and call it "Simply Signing". The reason was because she want her children to have good communication with her husband, who is deaf. She told us how she set up the business. She's self employed since 2007, she has set up courses for young children, deaf or hearing, hearing adults with deaf children or children with special needs. She set up courses to train people who work with deaf children and adults.

She went to the Enterprise Board for advice and help to set her business up. She has an office in Swords just 5mins from her home. She juggles her time between her business and her family life. After Lorna gave us the story of her business, Shauna thanked her for coming to give us talk and then Kathleen took photo of us with Lorna. Before she left, she gave us badges as a souvenir. Kelly Mc Caffrey LCA 1 On 21st May 2009; Mrs. Lorna Mc Cormack came to our school for an interview. She told us about her business. She is self-employed since 2007 and she has set up courses for young deaf children and adults. Her job is in Swords. She has a small office 5 minutes walk from her home. She told us that she likes her job because she enjoys her work with deaf people. She really enjoys it because she love working with children and deaf people and she wants her children to be able to communicate with their father. Their father is deaf. She set up courses to train people who work with children - i.e, crèche workers, in ISL and she teaches children/adults ISL herself too. She prefers her new job because she finds it very interesting and she likes to make books to show people how to sign. She meets lots of new people and she is very busy making a new web site. It is called www.simplesigning.ie. She thinks it was very hard starting the business because she has to search for lots of information. She liked her old job working in DeafHear and she likes the people she works with. She started her business two years ago. When she was working in DeafHear there were no books showing sign language. Her business now makes colourful books teaching people how to use Irish Sign Language. Shauna Coyle LCA1

---
Transition Year Graduation Party (2009)
A large crowd of students, parents and family, and teachers gathered on Monday in St. Mary's playhall for the Transition Year Graduation Party.

Guest of honour was Jenny Ryan, the first female driver to win the UK Motor Racing Championships. We watched a DVD which reminded us of the many events during the year, including appearing on the Late Late Show on RTE, F1 in Schools and "Glamour" Mini-Company. Then we performed two songs, our choir conducted by Frankie Berry. We thanked our teachers who helped us with our many exciting projects, and in particular Transition Year co-ordinator, Geoffrey Mc Cormack. Then we had a presentation where we got a framed photo of our group, a mirror with our "Glamour" logo and the school logo, and a clock with racing cars that go round on the hour. Mrs. OConnell said in her speech that now everybody in St. Marys wants to do Transition Year- that even includes the teachers! Transition Year Student of the Year is Avril Madden, and she received a perpetual plaque with her name on it. We then went to the kitchen, where we had lunch. Afterwards we all went for a meal together as our final celebration in a fantastic year.

---
"Blossom Beauty" Day (2009)
Girls in LCA and Transition Year had a "Blossom Beauty" Day on Wednesday 20th May.

Teachers and girls from the entire school were treated to their choice of Facial, Manicure or Hand and Arm massage. With appointment cards, relaxing music, aromatherapy oils being used, this was a salon that could compete with any other in Dublin. It was a perfect way to cope with pre-exam nerves too! All proceeds from the treatments will go to Cystic Fibrosis Association of Ireland.

---
Dissolving Boundaries (2009)
On Monday 27th of April a group of Transition Year students visited St Cecilias College in Derry. This was part of the Dissolving Boundaries project which has taken place between the two schools over the last two years. The teachers involved were John Canning and Eda Walshe. We arrived in Derry at 1pm and we were greeted by the teachers and students from St. Cecilia's. We had lunch together, then we got a guided tour of Derry city.
At 6pm we went to a restaurant for a meal, then we went bowling. After bowling the girls from St Marys stayed with a host family from St Cecilias College. The following morning we had a tour of St Cecilias College, followed by some shopping in Derry. We returned to Dublin at 3pm.

---
F1 Cheetahs - A Roaring Success (2009)
We were very excited when our teachers told us about the F1 in Schools project, which sounded fun. We had to design and make a car, get sponsorships, design outfits and a website.

We started working on the five-page plan. After brainstorming, we made our decisions on the role for each person on the team and chose the name for the team. After two weeks of hard work, and a few "snarling" moments, we finally finished the short portfolio - the day before the deadline! We sent it off to the judges in F1 in Schools and breathed a sigh of relief. A few days later, we got a letter saying that we had qualified for the next round - the regional final. We were absolutely delighted! We rolled up our sleeves and got on with the hard work. Lydia had the responsibility of designing a website for the team. We decided on the name, www.teamcheetahs.com and the main colours: yellow, orange and black to represent the cheetah. I had to design a car, using SolidWorks, a Computer-Aided Design, which was very difficult, as I have no experience of using CAD. We used the tutorial to learn the basics, but the problem with the tutorial is that when we couldn"t understand something, we could not ask for help. So we asked a college student if she could volunteer to teach us the basics of CAD. After that it was much easier. Donna was responsible for getting sponsorships and marketing. Avril had to research for "freebies" and outfits for the team as well as making sure the car was as aerodynamic as possible. This led to many changes in the car design. On the day of the Regional Final, we were very excited but also nervous, as we didn"t know what to expect. Would the competition be difficult? Was our car good enough? They were some of the worries we had but we still had a sneaking feeling that our project was fabulous! When we entered the hall, we saw other teams preparing their stands. Some were very professional looking and others were quite plain. After we prepared our stand, the judges came over to have a look and ask some questions. They grilled us on marketing, car design, our website, the team dynamics and what we liked about the project. After lunch, the tension was mounting. At 3pm, it was time for the announcement. We waited anxiously but were thrilled to receive two awards: "Best Newcomer" and "Best Website", and we had qualified for the National Final. We were ecstatic! We brainstormed for new ideas to improve our chances at the National Final. We came up with an interactive DVD to test people"s knowledge on Formula 1. We asked Anne, the director from "Hands On", (a television programme for deaf people) and Kevin Mulqueen, to help with the filming and editing. We travelled down to Mondello Park, a racing track in Kildare, to film the DVD. We were allowed to sit in the Formula One car to ask our questions! It was a great privilege. After a long, tiring day of filming, we went to the IDS office with Kevin to edit the film. It was great fun and a good learning experience. The day of the National Final wasn"t as bad as the Regional Final as we knew what to expect. We prepared our stand, and had a look around at our competitors" stands. One of the team from the Regional Final had really made their stand look professional; they had an interactive quiz as well as a computer game. The competition was tough but that made it more fun. At the end of the day, we were very anxious as this was the National Final and a big occasion for us. We were absolutely thrilled to receive the "Best Newcomer" award. They presented us with a beautiful glass trophy. We went home, feeling very proud of ourselves. It was a wonderful day.

---