Social Personal and Health Education(SPHE)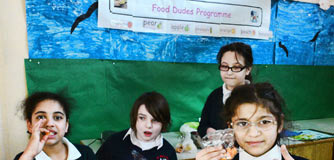 Vision:
As stated in our mission statement, St Mary's aims to enable each child to achieve her full potential, physically, emotionally, intellectually, socially and spiritually.
Within this context, it is envisaged that S.P.H.E. will contribute to a positive school environment in which the individuality of all pupils is respected and opportunities are provided to enhance the health and well-being of all our children.
It will also assist our children in creating and maintaining supportive relationships, in school, at home and within the wider community, and in becoming active and responsible citizens in our society.
Aims: Our aims are as follows:
To promote the development of the communication skills necessary for interpersonal relationships and social competency.
To foster in the child feelings of self-worth and self-esteem.
To foster in the child a sense of care and respect for herself and others.
To promote the health of the child and provide a foundation for healthy living in all its aspects.
To enable the child to make informed decisions and choices about the social, personal and health dimensions of life, both now and in the future.
To develop in the child a sense of social responsibility.
To enable the child to respect human and cultural diversity through a culture of acceptance of difference in the school environment.