Curriculum & Communication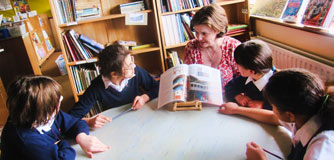 The children access the standard Department of education curriculum that is available in mainstream schools but will also benefit from having a communicating and teaching environment that is specially geared toward educating Deaf and Hard of Hearing children.
The teachers have specialist skills, a professional approach and on-the-job knowledge that enables them to communicate with and relate to the students.
The level of education and care provided by the professional staff at Marian school is centred around the unique needs of each Deaf student. Each student receives individual attention on every aspect of the curriculum.
English.
Mathematics.
Arts Education.
S.P.H.E.
S.E.S.E.
P.E.
Students also benefit from specialist instruction in Speech/Lip-reading, Sound Perception/Music, Swimming and Information technology, facilitated by the small class size. Visits of educational interest are arranged and students are encouraged to participate in various events of an educational nature.
Mindful of the role of parents as the primary educators of their young child, the school seeks to involve parents fully in all aspects of their child's education and development.
Communication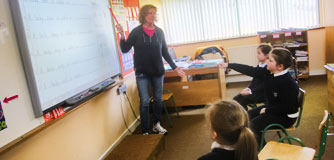 In Marian School, the core belief is that students prosper when they can communicate directly with their teachers, staff and classmates.
A variety of communication modes is used to encourage oral and signed language development. At all levels, teachers are flexible in their approach to meeting pupils' diverse communication needs and preferences.
Marian School has the services of a Speech and Language Therapist. For more on the role of the S&L therapist, click here.
At all levels, teachers are flexible in their approach to meeting pupils' diverse communication needs and preferences
WSE report, 2010