Transition Year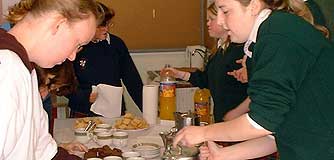 The mission of the Transition Year Programme is to promote the personal, social, educational and vocational development of pupils and to prepare them for their role as autonomous, participative members of society
Aims of Transition Year
Education for MATURITY emphasis on social awareness and increased social competence.
Promotion of general, technical and academic SKILLS with an emphasis on interdisciplinary and self directed learning.
Education through EXPERIENCE of adult and working life as a basis for personal development and maturity.
St. Marys Transition Year Programme will;
→ Promote personal development.
→ Lead to greater independence.
→ Acquire life skills.
→ Develop social interaction both within school and out among peers and adults.
→ Improve communication skills.
Subjects Covered in Transition Year
→ English
→ Maths
→ Art
→ Home Economics
→ Information Technology
→ Contemporary issues
→ Sport & Leisure
→ Water Safety
→ Religion
→ Business Studies
→ Biology
→ Social Personal & Health Education
→ French
→ Drama
→ Personal Development
→ Geography
→ History
→ Careers
→ Work experience
→ Accountancy

Extra Curricular Activities
→ Presidents Award
→ Young Social Innovators
→ Get Up & Go
→ Form & Fusion
→ Personal Development
→ Running the school Bank
→ Managing the school shop
→ Organising the school tour
→ Organising Table Quiz
→ Fund Raising for various charities - Trocaire, CRC, Irish Wheelchair Association
→ Food production & selling their products
→ Mini Marathon
→ Life saving examinations
→ Awards Ceremony
→ Science Trips
→ Field Trips for Geography
→ Photography competition
→ Visits to Art Galleries
→ Art workshops
→ Visits to see plays and films
→ Learning interview techniques
→ Organising plays or fashion show for Drama