Brief History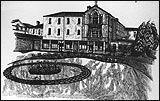 In 1846 the dream of Father Mc Namara, a Vincentian priest from Phibsborough, Dublin, was realised when the Dominican Sisters in Cabra generously and courageously agreed to establish a school for Catholic deaf children in the grounds of the convent.
key dates ...

1846 - A committee, later known as the Catholic Institute for the Deaf(C.I.D.) is established to raise funds for a school for Catholic deaf children.
- Two Dominican Sisters, Sr. M Vincent Martin OP, and Sr Magdalen O'Farrell, OP and their first pupils Agnes Beedam and Mary Anne Dougherty set sail for Le Bon Sauveur School for the Deaf in Caen, France.
- The school opens with fifteen pupils who are admitted to the 'Cottage Parlour', a room in a building owned by the Dominican Sisters in Cabra.
1848- A new wing, 'St. Gabriels', is opened to accomodate a further 90 pupils.
1850 - Rev. Dr. Murray, Archbishop of Dublin, presides over the first public examinations in the school.
1851 - Fr Bourke, CM, is appointed chaplain of St Mary's. He formulated the 'Cabra Method' of language training based on his studies of the works of siscard, de L'Epee and the Caen language programme.
1854 - A teacher training course is established for selected past pupils of St Mary's.
1857 - St Joseph's School for Deaf Boys, Dublin is established by the Catholic Institute for the Deaf. The Christian Brothers took on the task of running the new school.
1863 - A Vocational Department,(lace making, embroidery, dress making and tailoring), is established in the school.
- Mother Dympna Kinsella OP, a Cabra Sister, establishes the Grimley School for the Deaf at Capetown, South Africa.
1875 - Sr. M. Gabriel Hogan, OP, a teacher of the deaf from Cabra, establishes the School for the Deaf at Wanrath, New South Wales, Australia.
1890 - Sr Patrick McQuillan, OP, and Sr. Augustine Hayden, OP, establish the Chinchuba Institute for the Deaf in Louisiana, USA.
1904 - The education of the deaf becomes compulsory in England.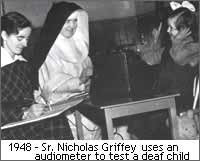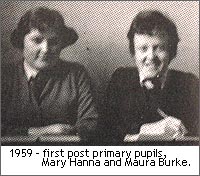 1933 - St Mary's is brought within ambit of Irish Public Hospital's Bill, and the Dominican sisters were given £80,000 by the Irish Hospital's Trust to fund a new building.

1936 - a new building called the "Sweep Wing" is opened.

1944 - Sr. Nicholas Griffey, OP, is appointed Principal.

1947 - Introduction of Oralism to Cabra.

1953 - Developments in secondary education, two pupils begin a second level programme.

1957 - Diploma course for Teachers of the Deaf is established in UCD and in St Mary's.
1959 - First two pupils sit the matriculation examination.

1965 - Sr. Lydia Slattery, OP, is appointed Principal.




1967 - Visiting Teachers service is established.
Irish association of Teachers of the Hearing Impaired(I.A.T.H.I.) is founded in Cabra.

1968 - Sr. Rosina McIlroy, OP, is appointed Principal.

1973 - Holy Rosary School and Residence is opened.
Swimming pool is opened by Sir Billy Butlin.

1974 - Sr. Andrea Shaw, OP, is appointed Principal.
- Unit for deaf/blind is established in St. Mary's.
- First Leaving Certificate class is established with two pupils.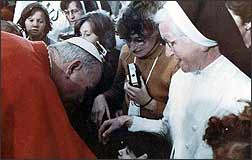 1979 - Pope John Paul II visits St Mary's and stays in the Papal Nuncio's residence on the Dominican campus.

1986 - Sr. Rosanne Doyle, OP, is appointed Principal.

1988 - Marian School opened by Minister for Education, Mary O'Rourke TD.

1995 - Post primary pupils move to Rosary School, primary pupils are transferred to Marian School.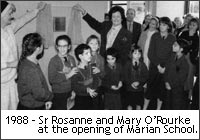 1996 - Dominican sisters, teachers and pupils visit Le Bon Sauveur Institute in Caen, France, retracing the steps of the two sisters and two deaf girls who travelled there in 1946 to learn about the education of the deaf.
- Trusteeship of the school reverts to the Catholic Institute for the Deaf(C.I.D.).
- St Mary's celebrates the 150th anniversary of its foundation.

1997 - President Mc Aleese visits St. Mary's School

1998 - Regina O'Connell, the first lay Principal, is appointed.

2004 - Students from St. Mary's attend the Inauguration of President Mary Mc Aleese

2006 - St. Mary's celebrates 160 years of Deaf Education. The Show, "Oliver" is part of our celebrations.

2007 - Dominican 800 Celebration in National Concert Hall. Pupils from St. Mary's take part in this stage production.

2008 - St. Mary's Girls Choir perform on Late Late Toy Show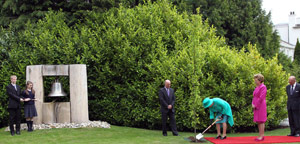 2011 - a St. Mary's student, Leah Ennis Mc Loughlin, rings the Peace bell at Áras an Uachtarán during the visit of Queen Elizabeth 11.